Guitar Lessons
Learn to play guitar in the comfort of your home or online.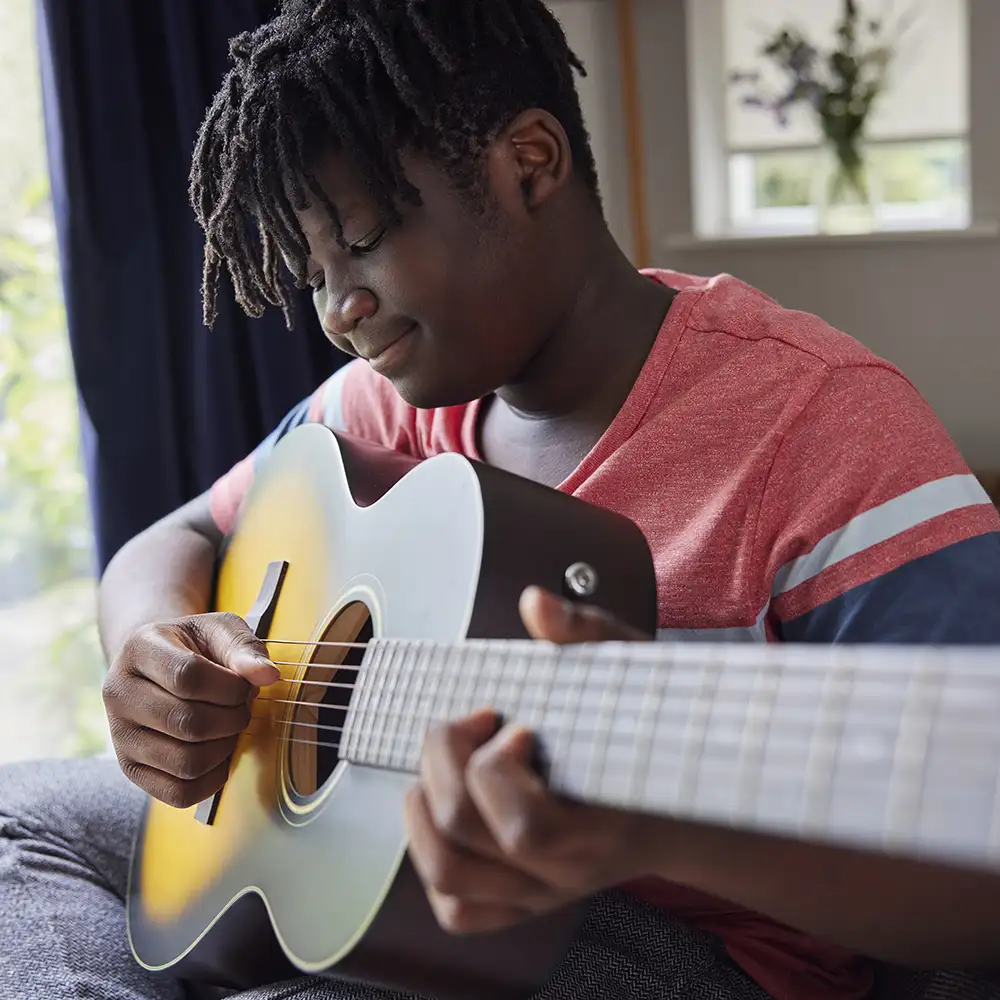 Don't "Fret"! Guitar lessons with Eskay's provide students with a personalized lesson plan to help them begin (starting at age 8), or continue their musical journey. Our guitar teachers are equipped to cover a wide range of musical genres including pop, rock & roll, classical, and jazz! Students should come to lessons with a guitar of some kind, whether that be acoustic or electric. Students will also learn about guitar tablature, often referred to as "tab" and experience why tab is a great method for intro guitarists to learn. Depending on the height of the student you will need to be properly fitted for the right size guitar. Our knowledgeable teachers can assist you with this process!
Eskay's can prepare your student for competitions such as NYSSMA and the Associated Board of the Royal Schools of Music (ABRSM). Teachers can also prepare students for auditions such as college admissions. Call 516 415 1825 or contact Eskay's Music Lessons to start your musical journey!
In-Home Guitar Lessons
In-person lessons are conducted in a one-on-one session providing students the freedom to learn at their own pace. Eskay's proudly provides in-home lessons throughout Nassau County including the towns of Syosset, Jericho, Huntington, Woodbury, and Plainview. Teachers will come to your house on a weekly basis so you can learn the guitar in the comfort of your own home! In person lessons are taught in 30, 45, or 60 minute sessions, depending on the student's prior guitar experience. As the student familiarizes themselves with the violin and begins to learn the basics fundamentals, lessons can be extended to 45 or 60 minute sessions which will include more material.
Virtual Guitar Lessons
Learn the guitar on your schedule, wherever you are, with Eskay's! Our virtual lessons are open to anyone, regardless of location relative to Nassau County. With online lessons, you can learn the guitar like never before. Record and playback your sessions, attend lessons from anywhere, and learn from the comfort of your own home! All you need for online lessons are your guitar, a stable internet connection and a smartphone, tablet or laptop with zoom capabilities. Similar to in-person lessons, virtual guitar lessons with Eskay's are taught in 30, 45, or 60 minute sessions, depending on your prior experience with the instrument. Our one-on-one online music lessons gives the student ample attention and a great way to learn!