Clarinet Lessons
Learn to play the clarinet in the comfort of your home or online.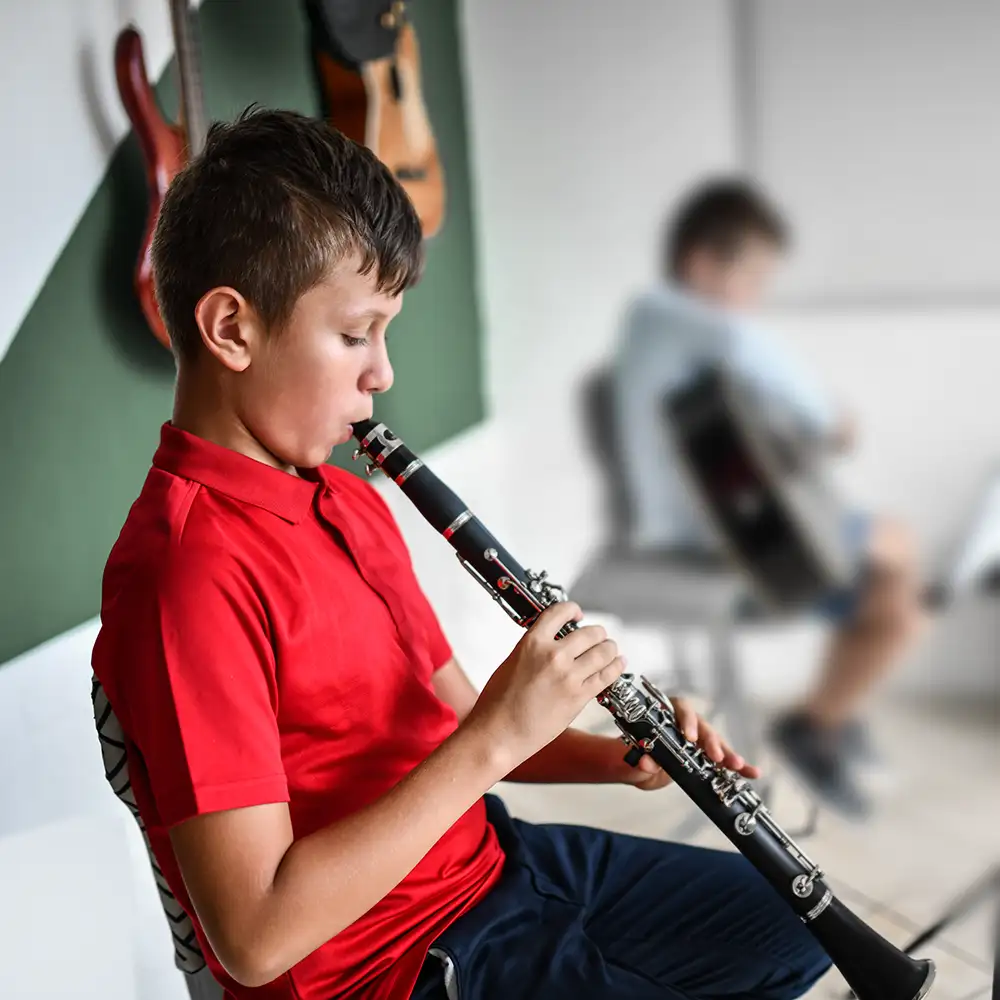 Eskay's private clarinet lessons allows students to learn one of the most well-recognized and popular woodwind instruments! Offering lessons to any student starting at age 8, our clarinet lessons begin with learning how to position your fingers on the instrument and read sheet music. Similarly, our teachers will show you how to develop your embouchure; which is the proper way the student shapes their mouth and lips around the mouthpiece of the instrument. Students will also learn various playing techniques, such as vibrato and articulation, while also learning different styles of music with the clarinet.
Eskay's can prepare your student for competitions such as NYSSMA and the Associated Board of the Royal Schools of Music (ABRSM). Similarly, teachers can also assist students with their current material in elementary, middle school and high school band and can also prepare students for auditions such as college admissions. Our teachers are ready to assist students of all levels, from beginner to advanced! Call 516 415 1825 or contact Eskay's Music Lessons to start learning today!
In-Home Clarinet Lessons
In-person lessons allow our students to gain the necessary one-on-one mentoring to begin their musical journey. Eskay's proudly provides in-home lessons throughout Nassau County including the towns of Syosset, Jericho, Huntington, Woodbury, and Plainview. Teachers will come to your house on a weekly basis so you can learn the clarinet in the comfort of your own home! In person lessons are taught in 30, 45, or 60 minute sessions, depending on the student's prior clarinet experience. As the student familiarizes themselves with the clarinet and begins to learn the basic fundamentals, lessons can be extended to 45 or 60 minute sessions which will include more material.
Virtual Clarinet Lessons
Learn the clarinet wherever you are with Eskay's virtual clarinet lessons! Eskay's music lessons allows you the opportunity to attend your virtual clarinet lesson from anywhere! All you need is your phone, tablet, or computer and you can meet with one of our experienced teachers for your lesson! Similar to in-person, online lessons are taught in 30, 45 or 60 minute sessions. Our one-on-one online music lessons gives the student ample attention and provides a great way to learn!