Violin Lessons
Learn to play violin in the comfort of your home or online.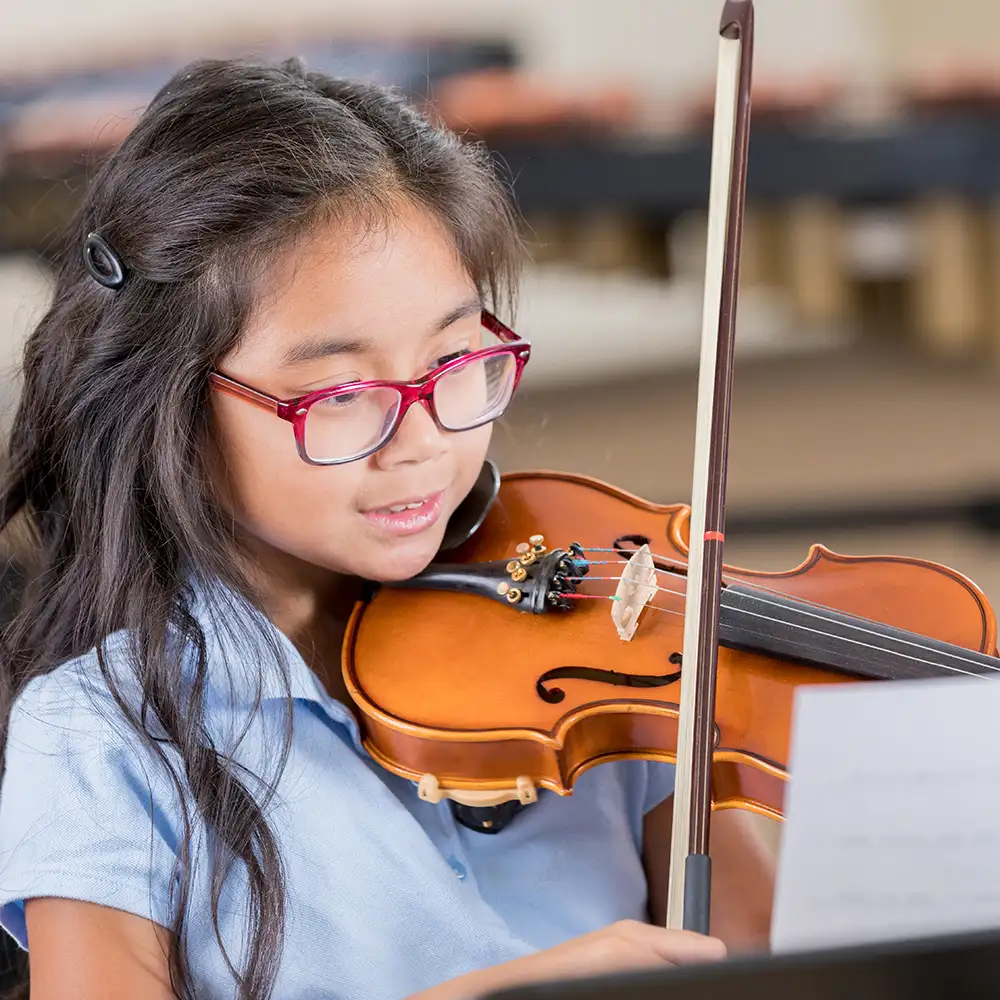 Whether you're a beginner or have some prior experience, our one-on-one private violin lessons will help you develop your skills and achieve your musical goals. Our violin teachers at Eskay's seek to provide a fun, informative, and customized lesson plan for students age 5 and up! The violin is one of the most iconic string instruments, with origins tracing it back to 16th century Italy. Making sure you hold the violin and bow at the correct angles is paramount to the student's success. More advanced students will learn vibrato properly, how to shift in different positions on their instrument, as well as how to tune their instruments correctly! Depending on the height of the student you will need to be properly fitted for the right size violin. Our knowledgeable teachers can assist you with this process!
Eskay's offers the popular "Suzuki" method, but as with all of our lessons we will find the method that works best for the student. Our teachers can help prepare you for upcoming recitals, NYSSMA events, elementary, middle, and high school orchestra, and the Associated Board of the Royal Schools of Music (ABRSM). Call 516 415 1825 or contact us to start your musical journey!
In-Home Violin Lessons
In-person lessons are taught in 30, 45 or 60 minute sessions, varying with the students violin experience. Eskay's proudly provides in-home lessons throughout Nassau County including the towns of Syosset, Jericho & Plainview. We recommend beginners start with 30 minute sessions to familiarize themselves with their teacher to establish their goals and desired teaching method. As the student familiarizes themselves with the violin and begins to learn the basics fundamentals, lessons can be extended to 45 or 60 minute sessions which will include more material.
Virtual Violin Lessons
Eskay's is proud to offer virtual violin lessons in addition to our in-person option. Similar to in-person, online lessons are taught in 30, 45 or 60 minute sessions. It is important to make sure your space is quiet and you have enough room to move and play your instrument during the virtual lesson. All virtual violin lessons are held over Zoom and can be recorded for the student's convenience. Our one-on-one online music lessons gives the student ample attention and a great way to learn!