Voice Lessons
Learn voice in the comfort of your home or online.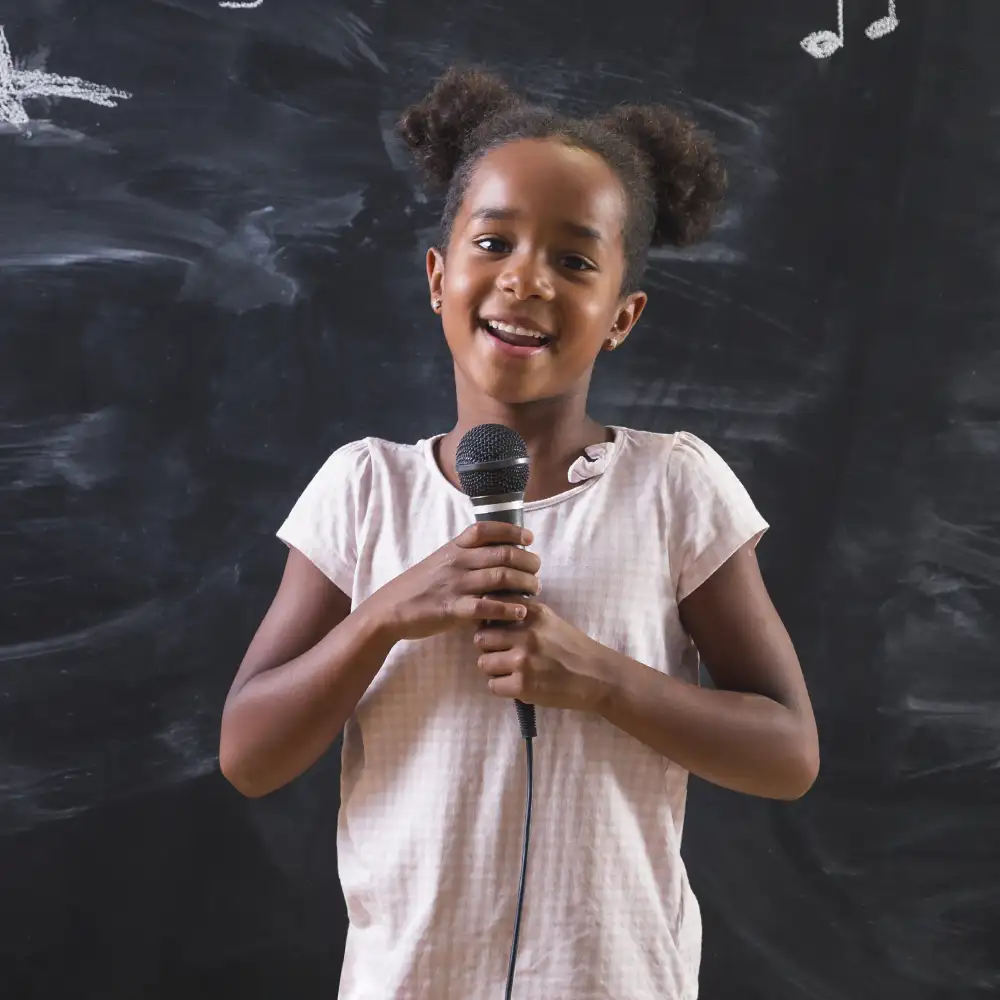 Voice lessons with Eskay's are the perfect way to have you singing pitch perfect in no time. Beginning at age 6 and up, Eskay's Music Lessons provides in-home lessons throughout Nassau County including the towns of Syosset, Jericho & Plainview. Students will meet with their teachers on a weekly basis to develop their vocal range, proper posture, breathing, and tone. Voice training can be tailored to the specific needs and goals of the student, whether it is for a recital, audition, or school choir. At Eskay's, we offer a holistic approach to voice lessons; you are your own instrument. All you need is a passion to improve and a desire to learn.
Lessons can be conducted in-person or online and typically involve a combination of vocal exercises and performance coaching, and working on your songs! A typical voice lesson includes doing warm up vocal exercises, learning how to sight sing, and increasing your vocal range. Genres of music taught include pop/rock and musical theater amongst others. Lessons can also be paired with any instrument lesson offered by Eskay's! Pairing voice lessons with your instrument lesson can provide a further level of comprehension and creates an overall better student. Teachers can prepare your student for competitions and auditions such as NYSSMA, college admissions, school plays, chorus, and the Associated Board of the Royal Schools of Music (ABRSM). Call 516 415 1825 or Contact Eskay's Music Lessons to start your vocal journey!
In-Home Voice Lessons
In-person voice lessons allow our students to gain the necessary one-on-one teaching to begin their musical journey. Eskay's proudly provides in-home lessons throughout Nassau County including the towns of Syosset, Jericho & Plainview. Teachers will come to your house on a weekly basis so you can train your voice in the comfort of your own home! In-person lessons are taught in 30, 45, or 60 minute sessions, depending on the student's prior vocal lesson experience. Our teachers will individualize your lesson plan based on your personal goals or aspirations!
Virtual Voice Lessons
Eskay's is proud to offer virtual voice lessons in addition to our in-person option. Similar to in-person, online lessons are taught in 30, 45 or 60 minute sessions. It is important to make sure your space is quiet and you are in a comfortable setting. All virtual voice lessons are held over Zoom and can be recorded for the student's convenience. Our teachers will provide students with a link to their lesson over Zoom according to the arranged appointment time.